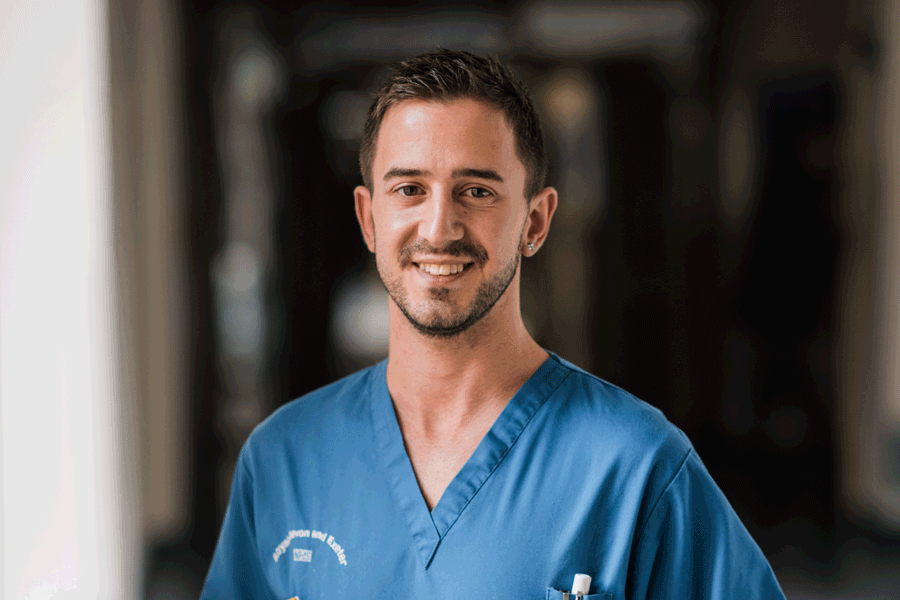 Valerio is a registered nurse in a busy acute medical unit in a hospital. Read Valerio's story to find out why he loves his role. The feeling you get from helping someone when they are vulnerable or scared is not something you get in any other job!
I trained as a nurse in Italy as I wanted to be an active part of my community and I was inspired by my mother who also works as a registered nurse. Soon after qualifying, because of the low number of nursing jobs and the fees associated with working as a nurse in Italy, I started to look for other opportunities. A friend of mine was working as a nurse in the UK so I moved from Italy and started working in a hospital in Exeter.
I'm now working on the acute medical unit after training as an emergency nurse. The ward can get very busy; it can be challenging dealing with multiple unwell patients at once, but this also makes it fast-paced and exciting, and the part I enjoy the most. I'm now a senior nurse on the ward which allows me to support junior staff and help them to develop their skills and confidence. Occasionally I have students working with me, which gives me the chance to pass on the knowledge and skills I've acquired through my experience and support them to develop their own career. It's rewarding seeing colleagues develop, and there are lots of opportunities to progress and develop your own career if you choose to.
I love many aspects of my job; being able to help the community and improve the quality of life of patients and their families is something that makes me proud to be a nurse.
My advice to anyone thinking of starting their career is to be aware that this role can give you happy and sad moments, but the feeling of being able to help someone when they are at their most vulnerable and scared, and being the person that can make a difference, is not something you are going to find in any other job!
---
If you are inspired by Valerio's story and considering a career in care and health, visit our website to find out about the range of career choices available.