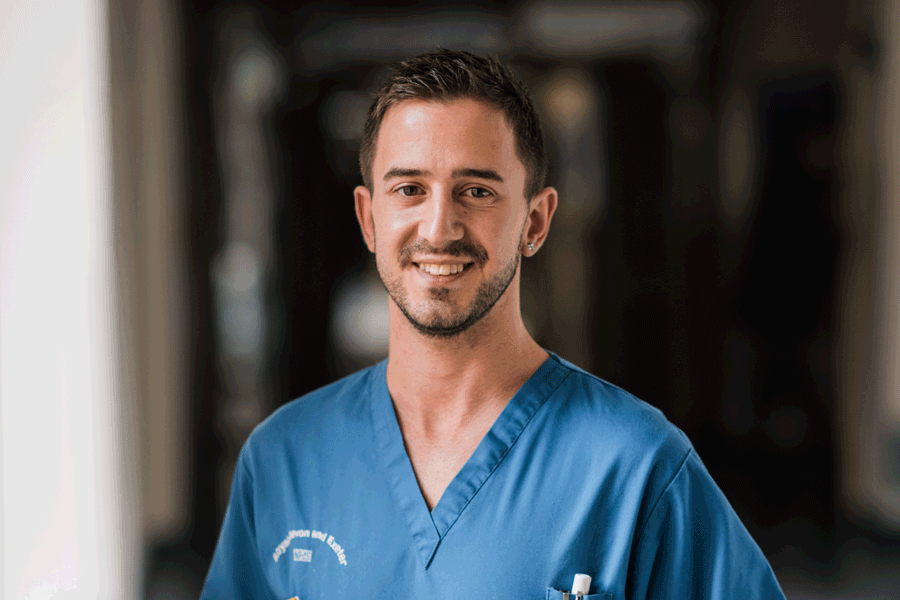 Valerio moved to Devon from Italy four and half years ago. From walking on Dartmoor to visiting some of the stunning local beaches, find out why Valerio loves living and working in Devon.
Meet Valerio…
I trained as a nurse in Italy as I wanted to be an active part of my community and I was inspired by my mother who also works as a registered nurse. Soon after qualifying, because of the low number of nursing jobs and the fees associated with working as a nurse in Italy, I started to look for other opportunities. A friend of mine was working as a nurse in the UK so I moved from Italy and started working in a hospital in Exeter.
Devon is an amazing place to live.
I was happy to move to Devon as it's an amazing place to live. When I'm not at work, I like to visit new places I haven't been to before, try different activities that involve being outdoors, go for walks over Dartmoor and visit some of the beautiful beaches in Devon. Sometimes my shift patterns are irregular, and I work long hours, but I still have time to enjoy my social life and hobbies. I've made lots of friends through work and we often socialise together, enjoying the nightlife in Exeter.
There are lots of opportunities for development.
My place of work offers lots of opportunities for professional development; this could be training to become a specialist nurse or applying for opportunities in research or leaning and development. I'm trained as an emergency nurse working in the acute medical unit; it's fast-paced and exciting, which is why I enjoy it so much. I've also trained as a senior nurse on the ward which allows me to support junior staff and help them to develop their skills and confidence.
In my job I'm able to help someone when they are at their most vulnerable and scared; I'm the person who can make a difference to their life. It's even better that I can do such a rewarding role in a beautiful part of the UK.
---
If you are interested in starting a career in care and health, search current job vacancies.