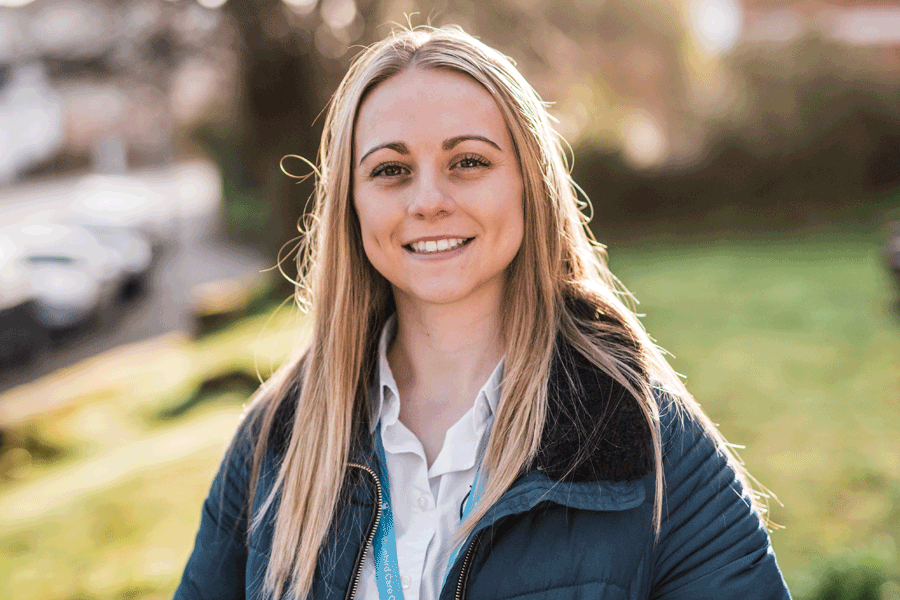 As soon as Phoebe started work as a kitchen assistant in her local care home, aged just 15, she knew she wanted a career caring for others. Read Phoebe's story to find out about her journey so far:
Hi, I'm Phoebe.
When I was at school, I didn't really know what I wanted to do, I just knew that I wanted to help people. When I was 15, my grandma was living in our local care home in Exmouth. I wanted to spend more time with her, so I got a job there as a weekend kitchen assistant. I enjoyed spending time with the residents so much, that after leaving school, I continued working at the same care home as a care worker.
Making a positive difference.
During my time there, I completed a level 3 health and social care qualification. I love learning and I really enjoyed studying for my level 3, the course was so varied and covered areas like sociology and psychology too. I soon progressed to a senior care worker.
I decided to leave the care sector when I was 18 and try something different; care work was all I knew so I felt I should try something else. After working as an estate agent for several months I started to missed care work. Every decision in care is so important as it will have an impact on someone's life – I really missed making a positive difference. So, I returned to the same care home who supported me and completed a level 5 management qualification. I then continued to progress to become part of the management team. Although I enjoyed the role, I really missed the contact I previously had with the residents.
The best part is seeing people's reactions.
I then moved on to my current role as wellbeing facilitator at a domiciliary care company. In this role, I create and deliver wellbeing sessions and activities in the community across Exeter and East Devon. This can be anything from beach walks and craft sessions, to mocktail making and school children coming to visit. The sessions are fun and interactive, and most importantly they improve health and wellbeing and help to combat loneliness.
The best part of my role is seeing people's reactions and getting feedback from them; knowing that I am improving the quality of someone else's life is so rewarding. I always put myself in the position of who I'm supporting and treat them as I would like to be treated; it's such a fulfilling role, so much more than just a job!
I'm so proud of what I've achieved so far. There are lots of varied opportunities in care and health and it's such an exciting area to work in. My advice to anyone thinking about working in care would be to do some work experience in different environments and speak to people in different roles. The opportunities are never-ending and with so many ways to progress your career, you're bound to find the right pathway for you!
---
If you are interested in starting a career in care and health, search current job vacancies.