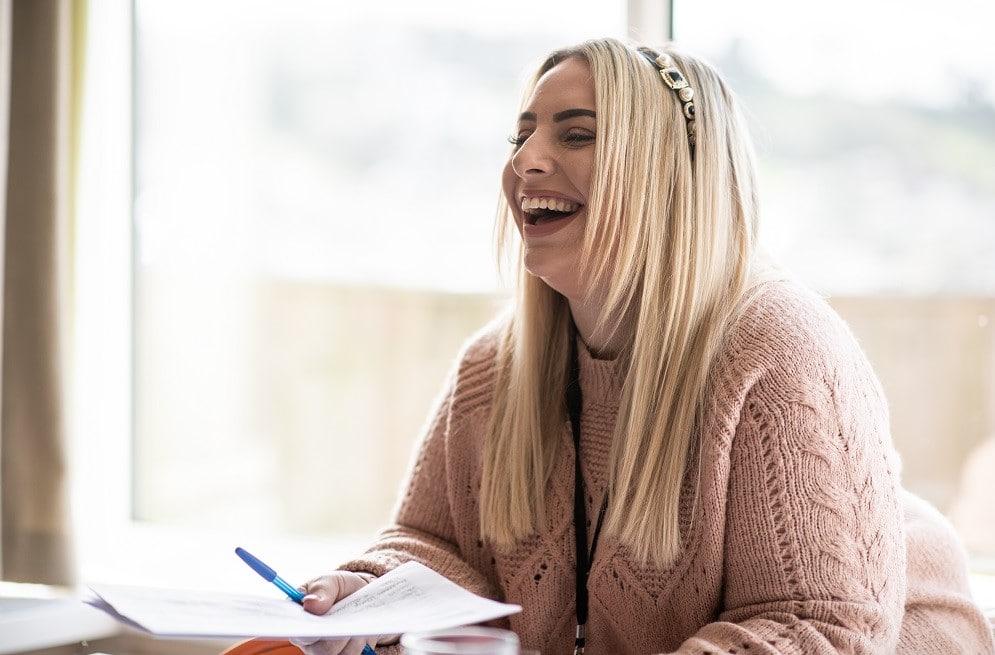 Meet Lou, a multi-site registered manager for two care homes in Newton Abbot and Plymouth, supporting adults with learning disabilities, mental health conditions and challenging behaviour. When Lou left school, she quickly progressed from support worker to manager. Find out more about her journey and how she found her passion.
COVID-19 has had a big impact on the people we support.
The staff I work with have been great during the pandemic, as the way we work has been flipped on its head. It has been challenging in many ways, but it teaches you to adapt. I think the biggest impact has been on our service users. Often people with learning disabilities, like autism, don't understand the outside world in the same way, which means the pandemic has been very difficult on them. However, we've been able to see our service users in a different light as they aren't in the community every day. It's been a huge positive to see what they are capable of inhouse. We have also had to adapt to using technology more as well. The main thing is that everyone, both staff and service users, stay safe!
I didn't know what I wanted to do.
Throughout my time at school I didn't really know what I wanted to do. I wanted to do something like nursing, but I was never sure, now I honestly can't imagine doing anything else. I first became a support worker and then progressed through the different levels from senior support worker to deputy manager and then on to a registered manager.
I manage two homes for adults with learning disabilities and mental health conditions in Newton Abbot and Plymouth. The care homes are quite small and offer highly specialised residential services.
I oversee the managing of the service, the staff team and our quality and compliance (meeting CQC requirements) as well as liaising with other professionals and managing the budgets. There are around 40 staff across the two homes so it can be quite busy!
I want to keep working and improving the services I manage, until they are rated outstanding. My main focus is being able to pass on my skills and knowledge to my deputies and other staff members.
You need to have a positive approach to things.
It can be a challenging job, so you need to approach things with a positive attitude and see the best in people. If you have that drive and determination it can be so rewarding.
The best bit of my job is the positive impact and change that I can drive forward. It's great to see what our service users can achieve despite their learning disabilities. I also love being able to inspire staff to achieve the best that they can and to be able to give them the opportunities that I was offered when I started.
It's a challenging role with quite long hours sometimes, but that's what I thrive off, as it's what gives the role variety. It can be difficult balancing work and home life, but that's why having drive and passion is so important.
You don't have to go to university.
I didn't go to university and I think it's important to highlight that you can still make a career in health and social care without a degree. Take the baby steps and work hard and the sky's the limit. There are so many different areas and opportunities available as well – so you'll find something that suits you.
---
If you're interested in a career in health and social care, visit our careers page.