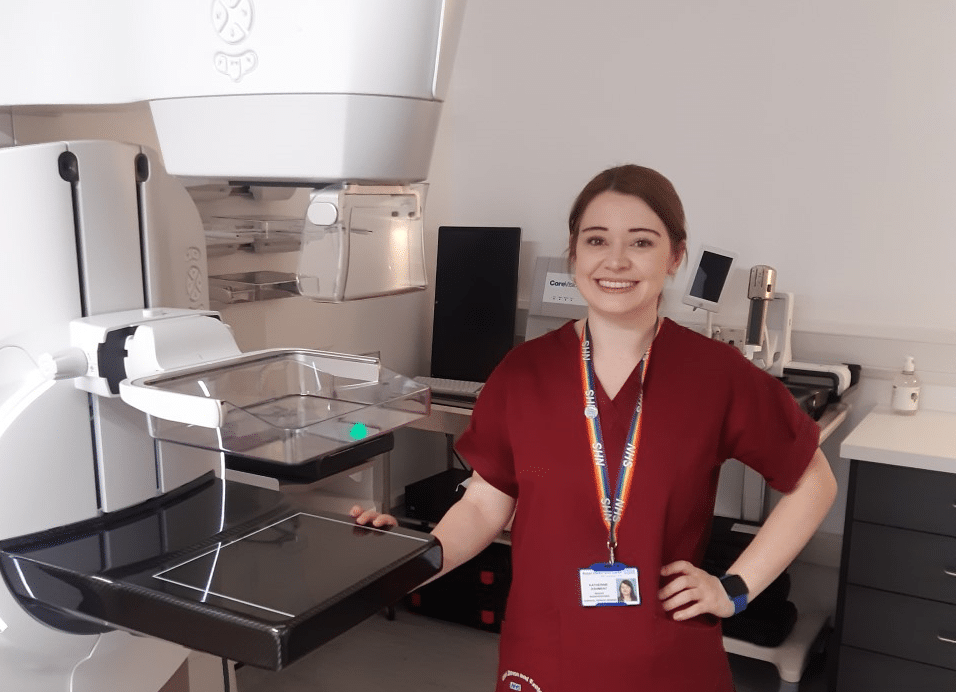 Katherine is a senior radiographer in Exeter. Read Katherine's story to find out about her journey to become a senior radiographer and why she always knew she wanted to work in healthcare.
I always wanted to work in healthcare
From a young age I always knew I wanted to work in healthcare. Lots of my family work in hospitals; my mum has a domestic role, my auntie is a nurse, and my uncle works in anaesthetics. I decided to do A-levels in subjects that interested me the most, so I did psychology, sociology, philosophy and art.
When I was working as a waitress, I worked with some students who were studying radiography at university in Exeter. I looked into this more and it sounded really interesting. As I'd got social science A-levels instead of pure science, I was limited to where I could study. I was successful in securing a place at The University of the West of England in Bristol, where I studied radiography for three years.
Working as a general radiographer provides lots of variety
After graduating, I worked as a general radiographer in the main x-ray department. In this role I met a huge variety of people; my patients included everyone from tiny babies in neo-natal intensive care, to adults of all ages in A&E. I treated patients who'd been referred by their GP, patients on a range of hospital wards as well as A&E patients. This role was very fast-paced and included working different shifts through the night and at weekends.
After doing this role for five years, I wanted to specialise in mammography, so I now work in the breast care unit. I was supported by my employer to complete a post-graduate certificate in mammography; the programme took a year to do alongside my role as a senior radiographer.
We work as a team to support each other, especially through COVID
One of the best things about my job is the team I work with; they are like a second family. At the start of the first wave of the pandemic I hadn't completed my post graduate certificate, so I wasn't fully qualified in mammography at that time. It was a stressful time, but there was great support within the team, and it was nice to keep some normality by going into work.
The emotional side of the role can be challenging
When you're working with cancer patients it can be emotionally tiring; it's difficult to find the right thing to say, I always want to re-assure patients. Especially as, in the current situation with COVID, family members aren't able to be there, so now you are that support in the room.
Three years of training leads you straight into a job
If someone is interested in radiography, I'd suggest doing science A-levels. Studying physics at A level, I feel, would have been very helpful. After three years at university you can start a job as a qualified radiographer, which is a real draw. There are also different areas in radiography, with opportunities to develop and progress your career.
To be a radiographer you need to be patient, caring, and able to empathise. Lots of people don't understand what I do; they know I work in healthcare and think it's all about doing x-rays, but it's a lot more than that! If you're thinking about radiography contact your local hospital and do some work experience; spend some time in each area, it will help you decide if it's the career for you.
---
If you're interested in a career in health and social care, visit our careers page.