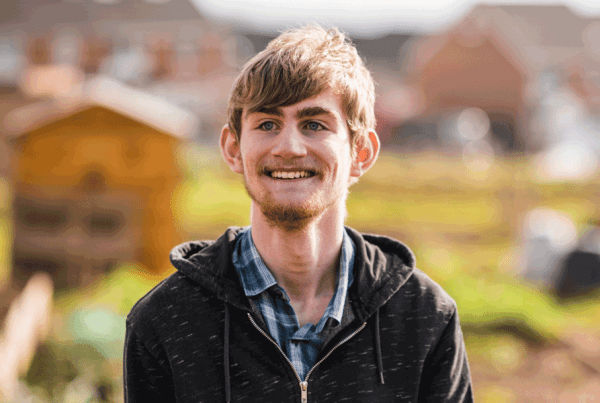 Jordan works in a day centre, supporting adults with learning disabilities and autism. Having a disability himself, Jordan understands the challenges this can bring but loves being able to help others to live their lives to the full. Here is Jordan's inspirational story.
Hi, I'm Jordan.
I knew I wanted to work in care after my mum became a care worker supporting older people. I've always been interested in supporting people with disabilities; having a disability myself, I am aware of the challenges and limitations this can have, so I want to help others to live happy and fulfilled lives.
At 18 I applied for an apprenticeship through my local college to work as an apprentice support worker in a day centre in Exeter. Here I supported adults with learning disabilities and autism. I'm now five months into my 18-month apprenticeship and I'm really enjoying it.
Everyday is different.
Every day I support a range of adults with learning disabilities and/or autism, who all have varying levels of need. Some of the people I support live at home with their family, others live in residential care homes and visit the centre to access different activities. No two days are the same, which makes my role very interesting.
I enable people to do the things they want to do.
My main aim is to support and encourage people to be independent, so they have the confidence to do things for themselves. We'll often take the bus into town to go shopping, visit the allotment, do some gardening at the day centre or do specific activities that the people I support want to do. This can include anything from playing golf to doing voluntary work at the local football stadium. My role is all about enabling people to do the things they want to do and making sure they are happy.
The work environment is great.
The thing I love most about my job is being able to support people to achieve their goals. It's so rewarding helping others to make their life more enjoyable; having the opportunity to socialise with other people who face similar challenges is important. The role can be difficult at times, but I'm surrounded by a great team and we all support each other to work through problems together.
Many people still think of care as being a female environment with roles for women, but this is changing now. It's a rewarding role for anyone with just as many opportunities for men. I work with both men and women every day and some of the men I support prefer to do activities with a male support worker; it's important for people to have both male and female contact and role models.
For anyone thinking of starting a career in care and health, I'd say go for it! It may seem daunting, but the rewards far outweigh the challenges. I'm doing a job I love; it's so rewarding to know that I am supporting people to live a happy and fulfilled life!
Thinking about a career in care and health? Search for apprenticeships and entry-level vacancies