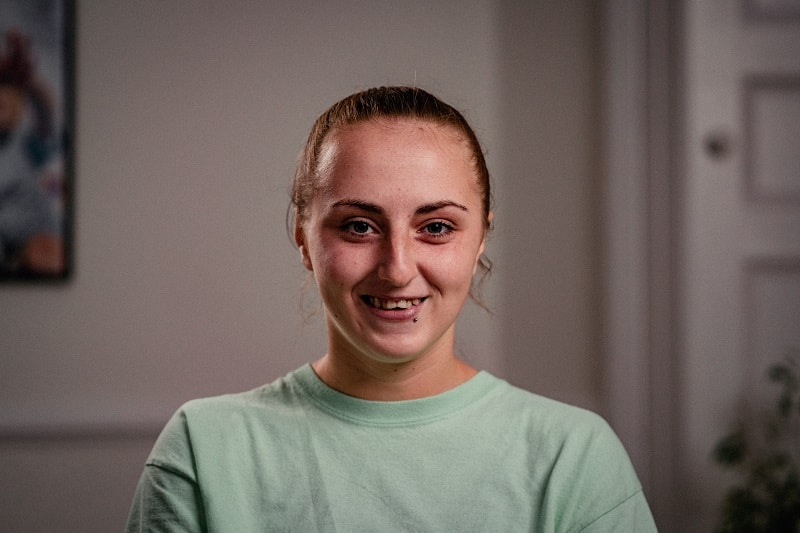 Jas is an apprentice healthcare assistant supporting stroke patients in hospital in Plymouth. Find out why Jas wakes up in the morning looking forward to going to work!
Seeing the progress patients make is amazing.
Working on a ward supporting people who've had a stroke is really special. Often when patients first come to the ward they can't walk, they can't talk, and you have to be there to support them. Some people are in hospital for a long time, so you get to really build a relationship with the people you are supporting. Hearing someone speak for the first time is amazing; the progress people make and helping them on their journey is incredible. I wake up in the morning looking forward to going to work, not many people can say that!
I always wanted to work in healthcare.
When I was younger, I knew I wanted to work in healthcare. My Dad has disabilities and I used to help my Mum look after our elderly neighbours; I'd always been a caring person and I loved helping other people.
I completed my level 2 qualification in health and social care at school and then started my level 3. Being dyslexic, I struggled with the level 3 qualification. I really enjoy hands-on work, but I found the college-based course difficult. After a healthcare professional came to our college to talk about opportunities in health and care, I was able to secure an apprenticeship working at a local hospital in Plymouth. This was perfect for me; I'm able to get real practical experience which I really enjoy, gain my level 3 qualification, and I'm paid to do a job I love.
Sometimes, it can be tough.
I'm not a morning person so I'm not keen on the early shifts and doing the written work for my apprenticeship can sometimes be difficult, but I have lots of support from my manager and the rest of the team.
If you're thinking about a career in health and care, you should do it!
There are so many opportunities in health and care, my employer has really supported me to progress; you have the chance to develop your career doing something you love and helping other people.
---
Are you new to health and care and / or recently been made redundant? We can offer free one-to-one support to find out if a job in health and care is right for you. Register your details and receive a call back.