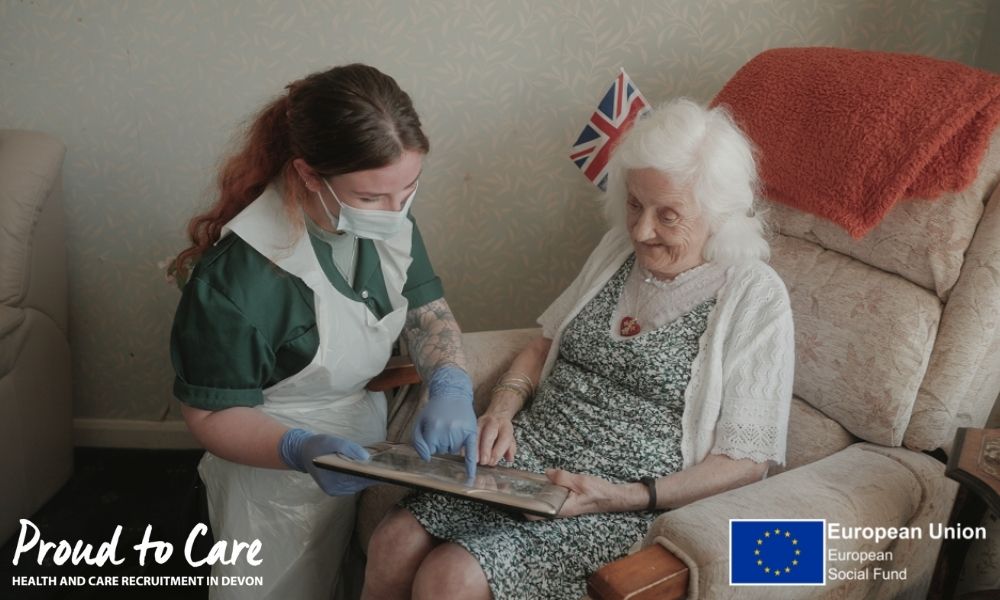 Georgina is a Service Manager in Domiciliary Care. She has been in the sector for seven years after leaving college and was drawn to the role after being inspired by caring for a family friend.
I realised that care was where my heart was.
"I actually studied animal care at college, intending to follow in the footsteps of my mum who is a veterinary nurse. It was after helping my mum care for a family friend with dementia that I realised that care was where my heart was, and I knew then that it was the role for me."
Georgina hasn't looked back.
Georgina found a role at a local care company and hasn't looked back since. Seven years on and she is now a Service Manager which involves managing new client referrals and meeting new clients, setting up and maintaining care plans, team supervisions, writing risk assessments and managing the day-to-day running of the service.
"I started off as a Domiciliary Support Worker which I loved and after a few years moved to working in a residential home. I then saw an opportunity at my current organisation – I'd heard so many great things about it, so I jumped at the chance. I then became a Domiciliary Senior Support Worker and have now progressed to Service Manager."
After a shift, I know I've made a difference.
"I go home after a shift and I know I've made a difference. It's easy to go above and beyond, the smallest things can light up someone's day. Often these are just simple things that require someone to listen. It may be remembering how they like their porridge in the morning or how they like their tea. It's small, but it means the world to them. That's the kind of thing care's about."
I love it.
Like her fellow care workers, Georgina worked tirelessly during the Covid-19 pandemic, and it was her love for the role that helped her through.
"I love it. Often people think care is about personal care but for me that aspect is just part of supporting someone. It's more about taking the time to connect and build relationships with people, finding out their likes and dislikes, listening to their story, and being there on both good and bad days. A lot of my days are spent laughing, sharing jokes and hearing about peoples' amazing lives."
There are many rewarding jobs and career opportunities in care and health right now. We offer free one-to-one telephone support, providing careers advice and information about jobs and training in care and health. Register your details and receive a call back.