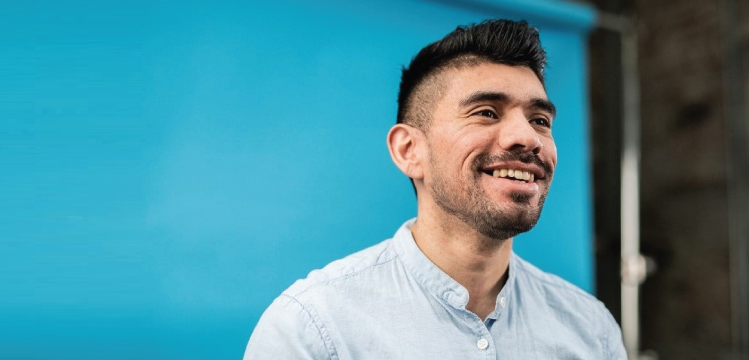 Meet Enrique, an occupational therapist working in Exeter on a dementia ward. Find out more about his journey and why he loves his job.
COVID-19 has been hard on the team and the patients.
My role involves helping to care for people with dementia and mental health conditions, which means the coronavirus lockdown has been really difficult. Our patients haven't been able to see their families which is hard because they lose that support. We did facilitate video calls between patients and their families, but you can't replace a face-to-face visit from a family member and often patients couldn't understand why they weren't allowed to see them in person. It has also been hard for staff as well as we have to be careful about contact with our loved ones and friends and have been working longer hours to provide enough support to our patients.
One of the most difficult bits has been communicating the pandemic to our patients. Many of our patients struggle to process too much information and those with dementia often needed to be told each day about the pandemic and why they couldn't see their families.
I was always so proud to tell my friends what my mum did.
My mum was a nurse and I remember being so proud of what she did. She was so passionate about caring for people and I've always wanted to do something similar. When I tried Occupational Therapy, I fell in love with the job.
I studied in Spain and then moved to England and got a job working in Exeter.
My team helps people with dementia have an improved quality of life. We assess patients and their needs and then plan ways in which we can help them. When someone has dementia, they lose a lot; their memory, their hobbies and quite often parts of their identity. We help them to regain some of these things by supporting them to continue or restart activities that they may have had to stop or feel unable to do by themselves.
I recently helped a patient with dementia, who was suffering with hallucinations, to rekindle his interest in gardening. Although he still has hallucinations, they are not as bad as they were, and his general mood has improved as well.
I'd like to keep working with older people and patients with dementia and mental health conditions. In the future I'd like to get involved with medical research into how occupational therapy can help people with dementia and improve their quality of life.
The best bit of my job is getting to help people.
I think being approachable and friendly is a really important part of the job. I really like discovering things about other people and listening to their stories. Everyone is different and I find that the patients I work with have so much to teach me.
To be honest, I think the patients are my favourite bit of the job. Every day, I feel lucky to do what I do, especially when the patients come up to us and say thank you. It's a great feeling knowing that you've made a difference to that person.
The role definitely has its challenges though, sometimes your patients might not recognise you or be having a bad day. Your patients are suffering, and their families are anxious, and when you're working with them you feel that as well.
If you love helping people, then this is the best career.
If you want to help people, occupational therapy is a good choice. Every day it feels like you are doing something great and I'd love to encourage more people to do it as a career.
If you're interested in a career in health and social care, visit our careers page.