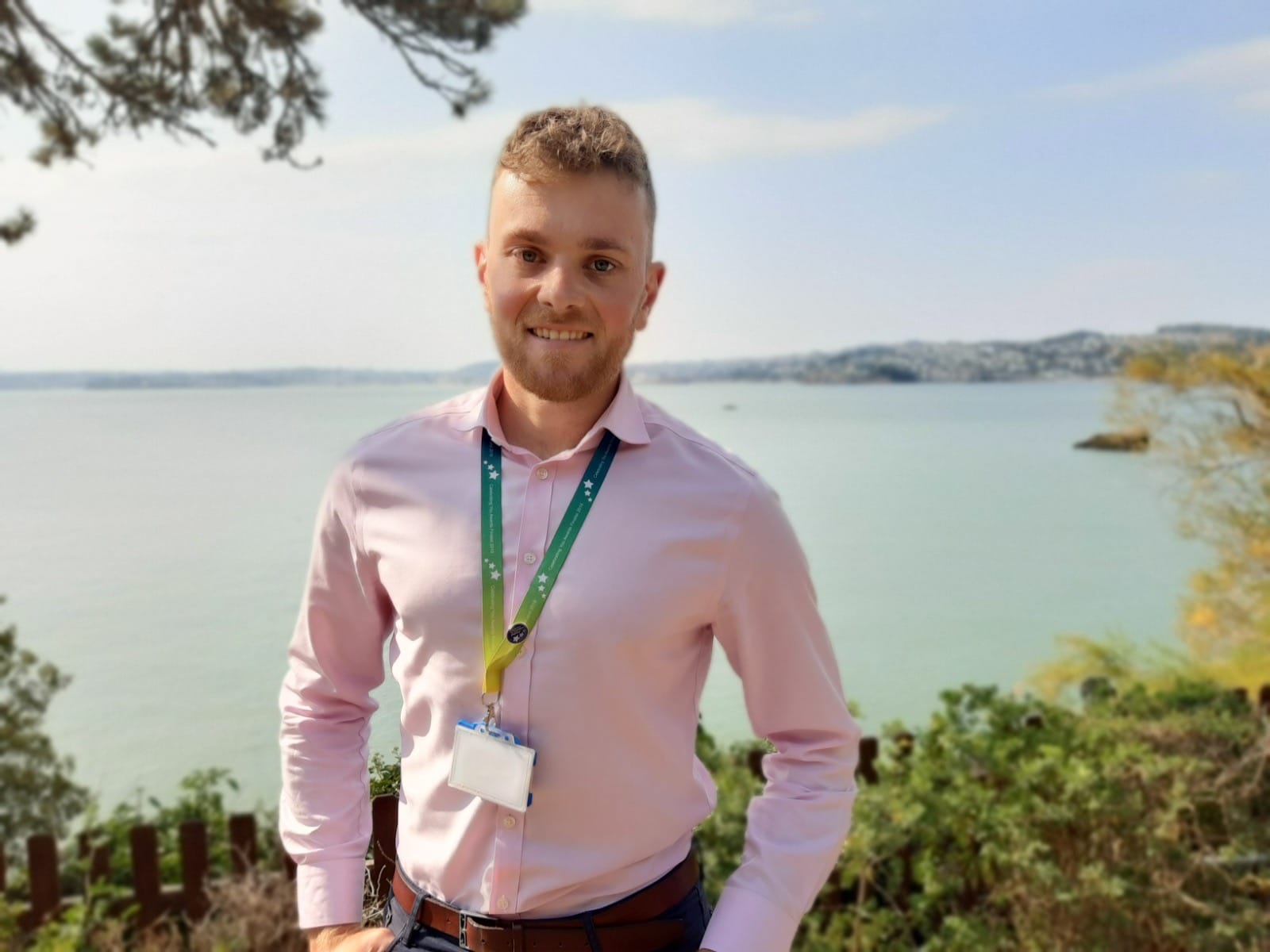 Meet Charlie, a medicines optimisation pharmacist in Torquay. Combining his love of science and working with people, Charlie has found his perfect role as a pharmacist. Read more about Charlie's journey and why he wants everyone to know there's so much more to pharmacy than sticking labels on boxes!
I wanted to combine science with working with people.
At school I really enjoyed science, so I always knew I wanted to do something science based but doing a vocational patient-facing role was important to me too. I did some work experience both in a high street pharmacy and in a hospital pharmacy, which really helped me to decide this was the career for me. Until I did work experience, I didn't really know what a pharmacist does. Lots of people don't know much about pharmacy, even now some of my friends still think I just stick labels on boxes!
After completing my A levels and taking a year out to travel, I moved to Cardiff to complete a four-year MPharm degree. After completing my degree, I did my pre-registration year in a community pharmacy. The pre-registration year involved demonstrating competence in a range of skills and getting them signed off and passing an exam, before becoming a fully qualified pharmacist.
I love the variety in pharmacy.
After qualifying, I became the manager of a small pharmacy in Torquay for 18 months. This involved clinically checking medications, responding to queries from patients and working with local GP surgeries. After a while I wanted to do something more clinical, so I started working at my local Clinical Commissioning Group (CCG) which also enabled me to complete a part time post-graduate diploma in clinical pharmacy over two years. I then went on to complete a non-medical prescribing course specialising in type 2 diabetes. This means I can now write and sign prescriptions.
Coronavirus has changed the way we work.
My current role is really varied. My mornings are spent working with a group of GP surgeries doing remote medication reviews for care home patients. This involves having conversations with patients and their families, as well as care home staff and GPs to make decisions about patients' medication. In the afternoons I do my CCG work; this can include anything from commissioning a service to improve prescribing locally to responding to complex queries from local GP surgeries.
Pre-COVID my role involved more face to face work with GP surgeries; working across the county to try and achieve value for money for medicines prescribed by looking at data, themes and guidance to put processes in place in Devon.
Having good communication skills is key.
Being a pharmacist can be tough; you have to handle conversations very carefully. Telling someone in chronic pain who's been taking a drug for many years that they no longer need to be on this medication is difficult. You have to be sensitive and adapt your approach to suit each individual; working in partnership with the patient to produce a shared plan is really important.
Although the role can be challenging, it's really rewarding too. Working with a patient to come off their medication and seeing them at the end of their journey is so worthwhile. I love seeing people return to doing normal things, that have such a positive impact on their life.
In pharmacy, you can carve out the career you want.
Pharmacy is moving so quickly with new roles becoming available all the time; this profession provides so much variety there will be an area that you enjoy. If you have good communication skills, can problem solve and are empathetic, you have the right qualities to be a pharmacist.
Devon is a great place to live as there are so many opportunities for pharmacists here. After completing my degree, I looked at where I'd have the best career prospects and it brought me back to Devon.
---
If you're interested in a career in health and social care, visit our careers page.