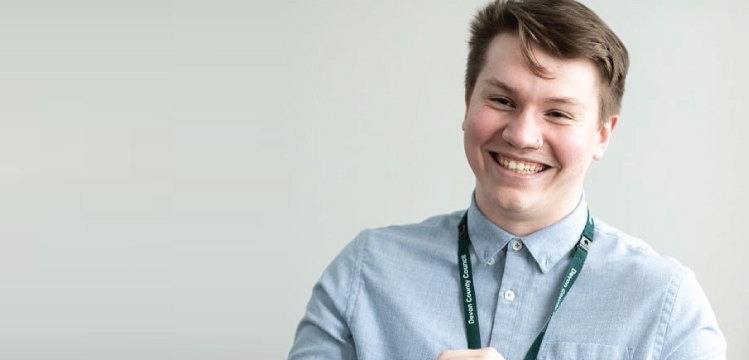 Meet Cameron, a social worker, working in a Community Health and Social Care Team. Find out more about his story, why he became a social worker and how he wants to change the world for the people he works with.
I didn't know what to expect with coronavirus.
Coronavirus has really changed the way we work. It's definitely been quieter as we're receiving less referrals. I think the most challenging part has been not having direct contact with our service users. So much of my job is building relationships with people so we can provide the best support for them and it's much harder to do that over the phone.
I wanted to change the world.
At A-level I studied Sociology and my lecturers were really encouraging and supportive. They instilled a strong sense of social justice in me which was a real influence when it came to choosing a career path. I just wanted to change the world to be honest and social care seemed like a way to do that.
During my A-levels my family had support from social workers, and this gave me an insight into the work they do and how they have the opportunity to inspire change – which really appealed to me.
I went on to Gloucestershire University to study Social Work Education. The course was quite intense with lots of placements to help you expand your skill base. I did three placements; one at a children's charity (working with adults with learning disabilities), one in an early help setting (working with children and families) and finally a placement in the Learning Disability Team.
I'm lucky that there are so many options for progressing in social care. I recently started to facilitate a peer-supported learning group within my team where we share best practice, theory and what we have found challenging. It's made me think that I'd like to work towards being a Practice Supervisor or Educator – meaning I can help teach young and aspiring social workers. This could lead into working in the Practice Development Team and maybe lecturing.
No day is ever the same.
I work in the Under 65 Team which primarily helps people with learning disabilities. Recently my work has centred around support for young people transitioning between Childrens and Adult's Services.
My role includes assessing a person's care and support needs and their capacity to make big life decisions and then suggesting a suitable package of care for them. I also carry out safeguarding work, making sure that young people in more vulnerable situations are safe. No two days look the same, but I really enjoy building relationships with people and ensuring the best outcome possible is achieved for them. If you're friendly, empathetic and willing to listen, it would be a good job for you.
You can help people thrive.
The best part of my job has to be the positive outcomes you can achieve for young people. You can help build a young person's faith and confidence in themselves to live a more independent life. When we achieve outcomes like that it makes me really proud of the person I'm supporting and proud of the work that I do.
It is undoubtedly hard at times and some interactions with people can be challenging. You have to be really organised with your caseloads and managing competing demands. For me, that can be one of the hardest bits because you have to be adapting constantly and sometimes it makes me late to meetings – which I hate!
Make a difference!
I would encourage anyone who wants to make a difference to do some volunteering and just give it a go. Be brave!
If you're interested in a career in health and social care, visit our careers page.