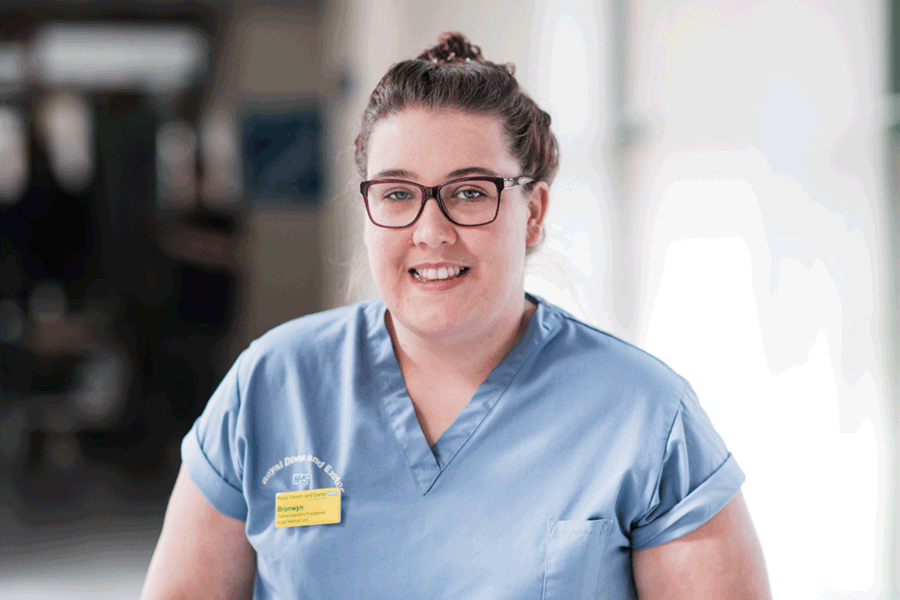 Bronwyn has always wanted to work in nursing since she was a child; her caring nature means she instinctively wants to help people who are unwell. Bronwyn shares her story of how she is progressing her career and doing a role she loves without going to university.
Hi, I'm Bronwyn.
I've always wanted to work in healthcare since I was a little girl. I can remember from a young age spending time with and caring for my nan, who had arthritis. Seeing the positive difference it made to my nan, being cared for by a kind and compassionate nurse, made me want to follow this pathway.
If you work hard, you will progress.
After my A-Levels, I started a diploma in nursing at university but I failed a module in my first year. I still wanted to work in nursing, but I knew that university wasn't for me. I needed a more practical hands-on route. With the support of my mum I started doing temporary work in a radiology department to gain some experience. With this experience I was then in a good position to apply for a level three apprenticeship through my local college in Exeter. The apprenticeship allowed me to study and work in a hospital at the same time; I completed it in just six months!
Following my apprenticeship, I started working in my local hospital, in the renal department. I continued to progress and worked my way through the NHS banding system. I gained experience working in procedure rooms, clinics and in the community. I'm now working full-time in the acute medical unit and currently completing my Level Five diploma in healthcare. After this, I will have the option to do further training to become a fully qualified nurse.
I share each patient's journey.
As a trainee assistant practitioner on the acute medical unit, I mainly work alongside registered nurses in administering care, enabling patients to get back on their feet and return to their own home to live independently. The acute medical unit aims for people to be seen and treated by doctors within a four to six-hour window of being referred to hospital. My role is to work with doctors and nurses to ensure patients have the tests they need, including blood tests, observations, ECGs and X-rays.
The most rewarding part of my role is knowing that I've helped someone. I first see patients when they are very unwell or worried and I always try to make them smile. I share their journey from being in a very low place to walking out of the hospital to go home. Knowing that I've contributed to that is so rewarding. I absolutely love my job; I work hard at what I do and I always do it with a smile on my face!
---
If you are interested in starting a career in care and health, search current job vacancies.